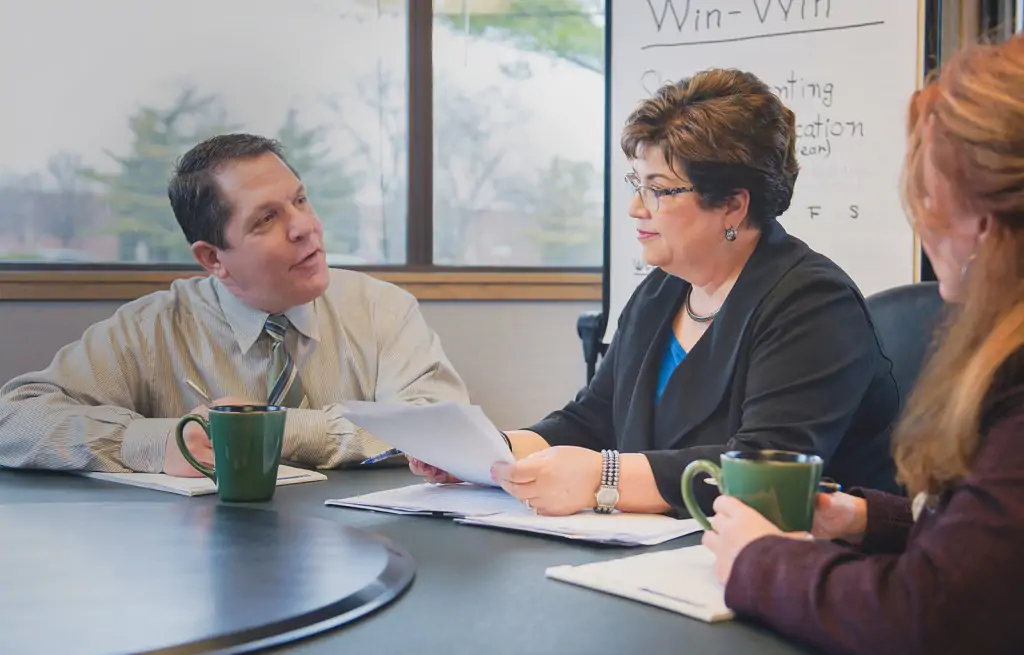 A Better, MUCH BETTER, Way to Divorce
Fear. Anxiety. Anger. Depression. These are only some of the extreme, negative feelings that most people have when they face the termination of a marriage, whether they want the divorce or their spouse wants it, or it is a mutual decision. After one or both parties have made the decision to divorce, the next decision is who you retain as your attorney and what will be the process you select. In traditional litigation, the contested divorce model, the couple hires aggressive litigators—the best they can afford or know to hire—to "duke it out" in court. Often the divorcing couple has no idea that there is a much better alternative process to divorce, and they have no idea how destructive litigation can be to their children, their own emotions and daily lives, and their finances, until they are in the middle of the litigation and they see what is happening or not happening. There is a much, much better way to divorce, and it is through the collaborative divorce process.
Client Testimonials
Each person who has called the office at the beginning of their case, has had many of the same emotions and in some important ways, faced many of the same challenges, issues, concerns, and, yes, fears that you may also be facing.
Your future should not be defined by your past or even the your present circumstances, but your future may be significantly affected by the decisions you make to select the collaborative process and retain Nancy Sponseller, who is a highly skilled, trained and experienced collaborative attorney. She has been practicing collaborative family law continuously since 1999, when the Central Ohio Academy of Collaborative Divorce Professionals was formed (under a predecessor name).
What is Collaborative Divorce?
Collaborative Divorce is a non-adversarial process, conducted outside of the court system, in which each party, who has his/her own collaboratively trained attorney, is guided in interest-based negotiations, to reach a fair and equitable agreement.
This process begins when each party retains a collaborative attorney and signs a written commitment to this process; that they will not to go to court, but they commit to resolving their family matter(s) outside of the court in planned meetings with collaborative professionals, where the parties are empowered to make informed choices after having all essential information and reviewing all potential reasonable options for resolution. If you are interested in learning more about the collaborative divorce process in a free thirty minute in-office consultation with attorney Nancy L. Sponseller, please contact us.
There are four basic steps in the collaborative process that are guided by professionals trained, experienced and skilled in the collaborative process:
The voluntary exchange of all relevant information
Identification of each party's interests and goals (including child-related)
Consideration of all viable and available options (yes, brain-storming and generating ideas, even "outside of the box" ideas)
Assessment of options, to reach full agreement
The process ends when the parties have made their own decisions and reach a full agreement. The written agreement and related court-required filings are prepared and filed (often e-filed) with the court. A hearing is held, which may be a private hearing with a private judge, and a final court decree is signed and filed.
Should You be Interested In Collaborative Divorce? Yes, if you want to:
Put your children first
Protect your children from the effects of a high conflict, contested divorce
Obtain the best parenting plan for you and your children
Obtain the best overall resolution for you and your family
Have a win-win solution and avoid a win-lose outcome
Tailor the outcome of your case to your family circumstances and needs
Keep your finances and other personal information as private as possible
Spend less money and time than you would were you in a contested divorce
Be fair and want your spouse to know you are going to be fair
Control the outcome of the case, rather than having a court make decisions
Focus on the future, rather than the past; focus on the positives and not negatives
Use your financial, emotional, and time resources in the most positive way
Benefit from the training, skill and experience of collaborative professionals who are dedicated to this process and know how to work with and for you, and who know how to work appropriately with each other for your benefit, to make this process successful for you and your family
Have difficult conversations in emotionally safe planned joint meetings where communications are respectful and each party is heard and respected.
Not spend your time, money and emotions preparing for trial and going to court
Collaborative Divorce Contrasted With Traditional Contested Litigation— here are just a few of the key differences:
CLIENT CONTROL:
In Collaborative, you and your spouse decide and agree upon what works for you and your children.
In litigation, a judge or magistrate makes the decisions for you.
TRANSPARENCY AND PRIVACY:
In Collaborative, all financial information is voluntarily exchanged between the parties and shared in a private forum.
In litigation, you make formal requests for financial information, and you often have to fight to have the information produced (sometimes at a significant cost to you), just to obtain needed financial information, and everything in the case may be a matter of public record.
In Collaborative, it is not uncommon that by the second planned joint meeting, all financial information and documentation is voluntarily produced and exchanged, and often this all is in the hands of the collaborative financial neutral who is working on behalf of both parties.
NON-LEGAL PROFESSIONALS:
In Collaborative, based on the needs of the parties, the collaborative attorneys utilize a team of neutral professionals working for the best possible agreement for you, your spouse and your children: neutral child/parenting specialists, neutral financial experts, neutral mental health professionals serving as coaches. These neutrals provide unbiased, neutral, factual information. These neutrals also are often key in obtaining and maintaining power balance where there may have been power imbalance in the marriage.
In litigation, each party hires his/her own experts.
The Ohio Collaborative Family Law Act:
The Ohio Collaborative Family Law Act (Ohio Revised Code Sections 3105.41 through 3105.54) was passed by the Ohio Legislature, signed into Ohio law in December, 2012, and became effective March 22, 2013. Nancy L. Sponseller was a strong proponent of this legislation. Her testimony before the Ohio Legislature in support of this legislation is available for you to read on this website.
This law recognizes the collaborative process as an alternative for divorcing couples, sets certain requirements and standards for all attorneys who want to handle collaborative family law cases, and creates safety by creating a statutory privilege for the process.
Collaborative Process Available For Other Family Matters
The Collaborative process is not limited to marriage terminations. This process is available for all family matters—wherever there are issues you need to have resolved– including but not limited to legal separations, pre-marital agreements (aka antenuptial agreements), post decree issues that occur after the marriage has been terminated, as well as issues arising in estate/probate matters.
Who May Be Involved In The Collaborative Process Working For You And With You
The Collaborative process gives you the support of an INTERDISCIPLINARY TEAM, all of whom have extensive collaborative divorce training. This team, in addition to the collaborative attorneys, may include 1) a CPA, who serves as the joint Financial Neutral expert, 2) a Child/Parenting Specialist, who serves as the joint expert on child and parenting related issues, 3) a Divorce Coach who helps the parties deal with the emotional and communication issues, and 4) other jointly retained experts, e.g., real estate appraisers, business evaluators, retirement evaluators, experts in retirement issues and division of these assets, etc.
More About The Non-Attorney Professionals On The Team
Neutral Financial CPA expert.
This professional, who is a CPA with training in the collaborative process, is uniquely skilled in obtaining and reviewing all financial information and then assisting the parties and their collaborative attorneys in their review of a marital balance statement, an income analysis, a cash flow analysis, budgets for separate households, and other financial issues.
Extremely beneficial is this expert's "after tax" analysis for support (spousal and child) given appropriate ranges that the parties and their attorneys believe are realistic and fair alternatives—so the parties each have a realistic estimate of what cash they will have, net of income taxes, to support his/her new separate residence.
The Neutral Financial expert enables the collaborative process to quickly proceed from information gathering to the generation and discussion of viable options for resolution, rather than getting bogged down in an expensive fight over discovery of financial information, which is often the case in contested litigation.
Some of what this expert does, with the parties' consent, is efficiently done outside of the planned joint meetings and with either one or both parties working with this expert. But, this expert is included in planned joint meetings where the focus is on the parties' finances, and this expert often leads the discussion in the joint meeting where financial information are reviewed and alternative options are generated for consideration.
Neutral Child/Parenting Specialist.
Children are often a central concern when a couple decides to terminate the marriage. Every parent wants their children to be secure and feel well-cared for even though the parents have determined it is best to parent from two separate homes.
In Collaborative Law, the best interests of the children are discussed thoughtfully. A neutral child specialist and parenting expert may be a part of the professional team in order to appropriately and thoroughly address the unique needs of the children and the ways parents can share parental rights, responsibilities, and time with the children to best meet those needs.
A child specialist is trained in child development with a special focus on how children may be affected by the parents divorce. This professional meets with the children and may also interface with the children's counselor to assess and communicate the voice of the children to the parents as well as any other considerations that may help meet the children's needs.
The child specialist and parenting expert will provide information and guidance as the parents prepare and deliver the message to the children regarding the changes in the family, as well as help the parents determine the schedule during which the children will be with each parent during the school year, summer, holidays, and vacation. Additionally, the neutral specialist provides insight to creating a productive and positive communication plan for on-going co-parenting, including on-going decision making for the children's education, medical needs, extra-curricular activities, and other relevant components of the children's lives.
Having the neutral child specialist and parenting expert on the professional Collaborative team gives parents confidence and comfort their children will transition as smoothly as possible to the changes brought on by the end of the marriage.
Much of what this expert does, with the parties' consent, is efficiently done outside of the planned joint meetings, and with both parties working with this expert.
Neutral "Coach" Expert
In Central Ohio, we may utilize one neutral "coach" in each case. This neutral professional has at least a Masters Degree, is independently licensed as mental health provider, and has in-depth mediation training in addition to collaborative divorce training. This neutral expert helps the parties to, among other things,
Get focused and stay focused on their positive goals and priorities including child related goals and interests
Communicate in the most positive and respectful way
Work through disagreements and tensions
Develop more productive ways to communicate
Facilitate planned joint meetings especially where difficult conversations need to occur
Share observations and recommendations about ways to move forward in the most positive way
Help the parties maintain a vision for a positive result in the collaborative process as well as for their future and their children's future after the collaborative process ends.
While some of what this expert does, with the parties' consent, is efficiently done outside of the planned joint meetings, the coach's skill and value to the process is often best seen "at the table" in planned joint meetings when difficult conversations need to occur. The neutral coach ensures that both parties are heard and multiple options considered before the matter can move forward to resolution. Frankly, even people who do not believe they "need" this expert, because they believe they have or will have no difficulties with "communications," find that when difficult conversations occur in a planned joint meeting, as they will, the parties know they are safe and can proceed because the coach works to maintain appropriate and respectful boundaries. Frankly, collaborative lawyers, even the best amongst us, on our own, cannot do the work this expert does.
The Law Office of Nancy L. Sponseller
5890 Sawmill Road, Suite 110
Dublin, OH 43017