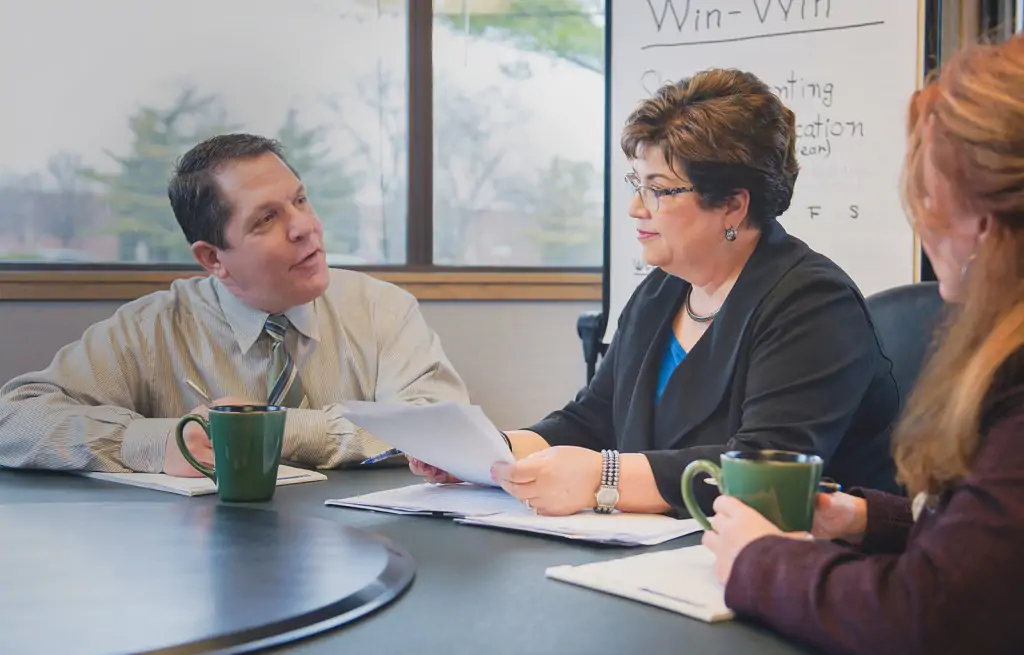 Nancy L. Sponseller
Read Transcript

I got into law because I have a passion to help people. Every client that comes in the door, I'm driven to help that person. I see how much they've tried to keep it together and to deal with it on their own, and they're to the point where it's not possible. I believe that as a lawyer, I can lead them on a pathway of peace and resolution. And that's what I'm all about. People who come in my office need to know their options and need to know with some clarity.
I am a long-time resident of the Hilliard/Dublin, Ohio area, having graduated from Hilliard High School in 1970. I received my B.A. Degree, Summa Cum Laude, from The Ohio State University in 1974, and my J.D. Degree, Cum Laude, also from The Ohio State University Moritz College of Law, in 1977. From 1977 to 1984, I was associated with a well- known, established law firm, located in downtown Columbus, which handled diverse and often very high profile cases. In 1984, I established my own law office, practicing in the areas of family law, probate/estate planning, and franchise law. I have been listed in the Best Lawyers in America since 1995. Best Lawyers ratings are based on lawyers evaluations of my legal ability and ethics. I was also included in the November, 2003 issue of Columbus Monthly Magazine in an article on the Top Lawyers in Columbus, as I was in 1997 when the Columbus Monthly did a similar article. Every year since 2004, I have been named an Ohio "Super Lawyer" which is a listing of the top 5% of attorneys in Ohio as voted by attorneys in Ohio. Since 1999, I have been AV© Preeminent ™ Peer Rated by Martindaale-Hubbell©, which is the highest rating available for legal ability and ethics. Effective January 1, 2006, I am certified by the Ohio State Bar Association as a Specialist in Family Relations Law.
I was one of the founding members of the Collaborative Family Law Council of Central Ohio which is now known as Central Ohio Academy of Collaborative Divorce Professionals. I am a member of the International Association of Collaborative Professionals. I am also a member of the Ohio State Bar Association and the Columbus Bar Association. I previously served on the Columbus Bar's Board of Governors, as well as on numerous committees that include the Long Range Planning Committee, Admissions Committee, Professional Ethics & Grievance Committee, and Family Law. I currently serve on the Columbus Bar Association's Fee Arbitration Committee which resolves fee disputes between attorneys and clients without resorting to the courts. I also have served as a Trustee of the Columbus Bar Foundation.
While an undergraduate at Ohio State, I received the Phi Beta Kappa Scholarship for my senior year. Honors and awards during law school included membership on The Ohio State Law Journal, The Joseph M. Harter Award for Excellence in Trial Advocacy and the American Jurisprudence Award for Estate Planning as well as membership on the American Bar Association Law School Accreditation Review Committee. Following law school, I was Secretary, President-Elect and President of The Ohio State University College of Law Alumni Association and also a member of the National Council of the law school. I am also a graduate of the Columbus Area Leadership Program.
I have always been very active in my church, having taught adult Sunday School and having served on various church boards and committees, including the governing board of several churches. I grew up in the church, and church as always been an important part of my life, my growth in my Christian faith, and my service to others. I am a member of Upper Arlington Lutheran Church and am active in many ways, including current service as a member of its governing Council.
For years, dog ownership and the care of dogs have been an important part of my non-working, personal time. For nearly fourteen years I was "Mom" to Lita, a Bichon Frise, and Gator, a West Highland White Terrier. I have been "Mom" to a number of rescue dogs, of various breeds, Bichons and a Golden Retriever. I have been "foster Mom" to Buckeye, a Cockapoo. I adopted a cat, Annie (as in little orphan Annie) who came into my garage literally to die, but was revived to full health. Before Annie, I thought I was a dog person, but after Annie and my dogs made peace (rather quickly), I realized I love pets, be they dogs or cats, and I could not imagine life without these adorable creatures. I now have a new dog, a red standard poodle, named Scarlett. Recently, I was able to visit a camp in Alaska where mushers train their dogs for the Alaskan Iditarod race, and I actually went out with one musher and his dogs mushing in the snow on top of a glacier—which for the dog lover that I am, was the thrill of a lifetime.
In my non-working, personal time, I have been involved in the Kairos Torch prison ministry for incarcerated juveniles. My Kairos Torch group forms teams of adults to go into a prison where hundreds of children and young adults are incarcerated after being convicted of serious, often violent or drug-related, offenses. I candidly admit that this is a difficult and draining ministry for all adults from the outside community who commit to the training and time involved in this ministry. But, these incarcerated children desperately need strong, positive and productive adults who care enough about them to make this commitment and serve, to show and encourage them in a pathway out of what could be a life of crime and imprisonment.
Areas of Practice
Contested Divorce
Contracts
Divorce
Franchising
Certified Legal Specialties
Specialist in Family Relations Law, Ohio State Bar Association, 2006 – Present
Bar Admissions
Ohio, 1977
U.S. District Court Southern District of Ohio, 1978
U.S. Supreme Court, 1987
Education
The Ohio State University Moritz College of Law, Columbus, Ohio
Ohio State University, Columbus, Ohio
The Law Office of Nancy L. Sponseller
5890 Sawmill Road, Suite 110
Dublin, OH 43017